These are the best first-person shooter (FPS) games that are currently available on multiple devices.
Many games try to be offered on as many platforms as they can on the market today. When choosing what game to buy next, comfort and ease of access can be very important, but being able to play on different platforms can also be a big deal.
Being able to play your favorite game wherever you want—at a desk, on your bed or couch, or even at a coffee shop—is what makes gaming fun. There are still plenty of games that are only available on one device, but there are also quite a few games that can be played on more than one platform and progressed in both.
Enlisted
In the shooter type, games about World War II tend to be pretty popular. Enlisted is a great first-person shooter game that takes place in World War II. It is free to play and can be played on Xbox, PlayStation, and PC.
In this game, you are in charge of a group of troops, each of whom can be upgraded and given a specialization. Some of the roles you can play as are infantry, sniper, tanks, pilot, and medic. There are also a few missions, such as the Battle of Moscow and the Invasion of Normandy, that put you right in the middle of World War II.
Quake
Quake is known as one of the best games ever made, and it was also one of the first games to have online gameplay. This fast-paced FPS really puts your skills to the test against other people on different maps that have a nostalgic, old-school look.
In 2021, an updated version came out, which added cross-platform and cross-play to the Xbox Series X, PlayStation 5, and Nintendo Switch, among others. There are many things like mods, tasks, and a "Horde Mode" that can be added to the original game to make it bigger.
Deep Rock Galactic
Deep Rock Galactic might not be the first first-person shooter (FPS) game you think of. This game is very interesting and fun because it involves space, dwarfs, and guns.
As one of the four classes, you can go on quests alone or with friends to explore cave systems, find resources, and fight hordes of alien creatures. You can also improve your weapons and tools to make them better for your tasks and to help your team members.
Splitgate
Have you ever thought about what would happen if you put Portal and a competitive FPS together? Most likely, that game would become Splitgate. This fast-paced, free-to-play sci-fi FPS has great multiplayer fun in a unique setting.
This FPS really stands out from the other big-name games on the market because you can make portals to surprise the other team and move around the map quickly. If that doesn't get you interested, maybe the 20 maps, 15 game types, many ways to change your character, and competitive leaderboards will.
Back 4 Blood
Back 4 Blood is a great game if you want to fight mutant creatures. You can play it by yourself or with friends. The game takes you through levels that get harder and harder as you play as a Cleaner, a person who is immune to a parasite.
You can pick one of the eight characters and make it your own while choosing weapons and things to fight hordes of creatures called Ridden. If you want to take a break from the story, you can play the PvP mode. You can play as either the Cleaners or the Ridden, and each side has its own special benefits.
Borderlands 3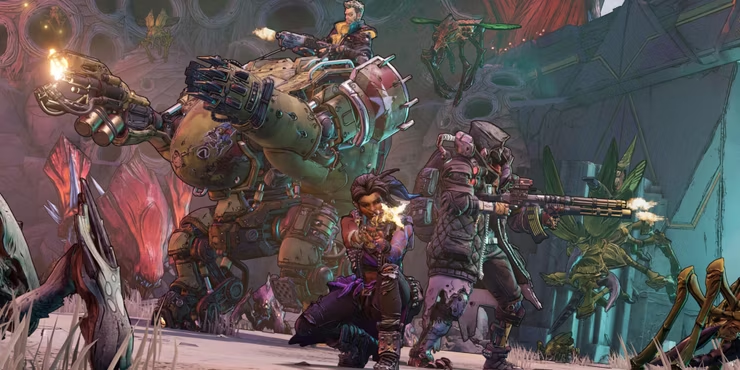 Borderlands 3 adds to a set of games that are already fantastic and a lot of fun. This game is a confused fun game that is known for its gameplay, strange cast of characters, and instantly recognizable cel-shaded images.
The action role-playing first-person shooter (RPG FPS) has a lot of guns that are very strange and fun to use. Not only are the guns fun, but each of the Vault Hunters you can play as has its own unique skills. There are also many enemies to fight, and the world is big enough to travel alone or with friends.
Battlefield 2042
When Battlefield 2042 came out, there were a lot of people who didn't like it for a number of reasons. This game made the news for all the wrong reasons, whether it was because of how it played, why it crashed, or why it had bugs. But the people who made the game worked hard to fix many of those problems.
Many changes have been made to the game, which has brought back its fans. In the style of other Battlefield games, this one has both big and small maps and a changing landscape. You can choose from a lot of guns, classes, vehicles, and gadgets, which makes for a very action-packed time.
Destiny 2
Destiny 2 is likely one of the most popular FPS games that you can play for free. This first-person shooter massively multiplayer online game (FPS MMO) lets players explore a world full of enemies and bosses. In this game, you can choose from three different classes, and each has its own benefits.
Even after you finish the main plot, there are plenty of events, seasons, and game expansions that keep adding to Doodle Baseball game. You can also try out your skills, weapons, and armor in both casual and ranked co-op missions and game types
Call Of Duty: Modern Warfare 2
Call of Duty is probably one of the biggest and most well-known series. Over the years, this series has grown and changed, with both good and bad entries making news no matter the game.
Call of Duty: Modern Warfare 2 is not just a remastered version of the first game. It also adds to it, just like the first Modern Warfare game did. The single-player story has a lot of tasks. And there are also different multiplayer game modes, a battle pass, and different seasons. You don't even have to buy Warzone or DMZ to play them. You can play them for free.
Apex Legends
Apex Legends is one of the best battle royale games, and it takes place in the well-known Titanfall world. When this game first came out, it made a lot of noise because of its story. Which had a big effect on both the maps and the people in the game.
Like most battle royales, your goal is to drop into a map, collect loot. And fight with the other teams to be the last team left. In the game, there are more and more heroes as each new season adds a new character. The game also has a battle pass that gives you access to exclusive character and weapon skins, charms, in-game items, and events.