These cozy games are a great way to relax and unwind.
Cozy games are having a comeback, and games like Stardew Valley and Animal Crossing are at the forefront of this trend. As the gaming industry grows, it becomes clearer that people want games that are relaxing and healing. Indie developers from all over the world have met the call by making games with meditative gameplay and NPCs that make you care about them.
Whether your ideal cozy game is a task-based one or one that lets you put your own feelings into a sad story, there are choices for players from all walks of life. There are a lot of different kinds of games in this type, like RPGs, platformers, point-and-click adventures, life simulators, and many more. You can play these games after a long day at work, when it's raining, or when you just don't feel like getting out of bed.
New Pokemon Snap
Normal Pokemon games aren't very relaxing because it's hard to beat Gym leaders and become a Pokemon master. So, during the harder fights, it can be easy to get angry. But in New Pokemon Snap, you don't have to think about any of that.
This book is all about pictures of peaceful places. You walk around and try to take the best photos you can. The cute Pokemon that live in the wild are your targets. It's enjoyable and doesn't cause any stress.
Story Of Seasons: A Wonderful Life
Anything called "A Wonderful Life" is almost always a cozy game, because what could be cozier than having a great life? This is another game in the Story of Seasons series, which is known for making peaceful games over and over again.
In this one, you live in a quiet place called Forgotten Valley. You take care of animals, run a farm, and start a family. Simply put, it's a life simulation game with few problems and lots of good things to do.
Little Inferno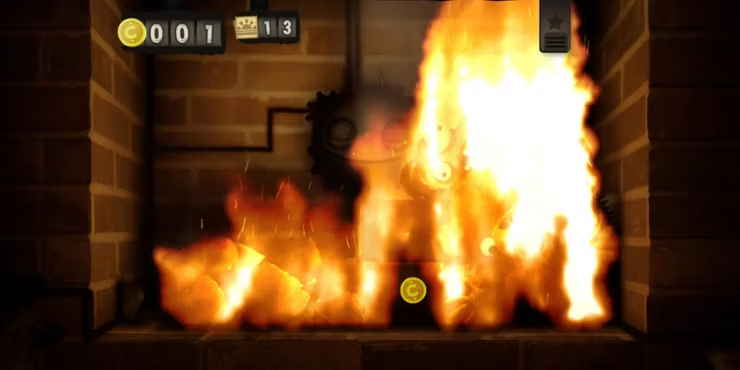 People often say that sitting in front of a fire with a blanket on is a cozy thing to do. The fire is important because it keeps you warm and looks and sounds good. Because of these things, Little Inferno is a fun game to play.
The idea behind the game is easy to understand: you just burn things. There are no real problems or anything else. You set things on fire in an oven without any trouble. The game's art style is a little darker than most cozy games, but it still has that warm feel.
Donut County
Before Ben Esposito and his team made Neon White, which is a dream for speedrunners and anime fans, they worked on a more than chill experience that is great for a good time and a few laughs.
In Donut County, you are in charge of a hole in the ground that grows as it eats anything, including animals and people. If this sounds like Katamari, it is. But since there is no time limit and you can take your time in each level, it is much less stressful and more fun.
Chicory: A Colorful Tale
Okay, as the game goes on, some things might get a little sad and powerful because of how they are shown. But even so, Chicory's world is so beautiful and valuable that you shouldn't let that get you down.
The main way to play is to paint everything around you, adding color to a world that is mostly black and white. The main character is a very cute dog, which is a plus.
Dorfromantik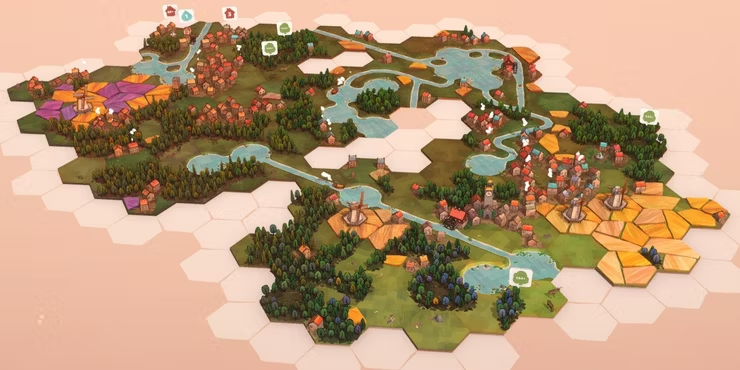 Try playing Monopoly with your family over the holidays to see how far from cozy board games can be. But even though the board looks hard at first, Dorfromantik turns out to be a low-pressure pleasure. In Dorfromantik, you put together hexagonal tiles to build your own little piece of country life. This is similar to how satisfying it is to change the land in Animal Crossing: New Horizons.
Yes, as a puzzle game, there are strategies and high scores for those who want a challenge. However, you can still play it in a relaxed way, and even if you don't get a high score, you can still build your own little town.
Coral Island
Coral Island is a farm simulation game with a tropical setting, a focus on variety, and, of course, a tone that is meant to be relaxing. It is great for people who miss the good old days of Farmville. You'll spend hours growing interesting crops, cleaning up pollution, exploring on land and under the sea, and maybe even going on a date with a mermaid. The game is full of bright colors, cute characters, and adorable animals.
Coral Island is a great game to play when life gets too hard. It's a farming game, a dating sim, and a holiday-themed game all in one.
Disney Dreamlight Valley
Animal Crossing was the clear king of life simulation games for a long time, but Disney may be the one brand that could give the Nintendo game a run for its money as the best game to play when you want to relax. Disney Dreamlight Valley is like the Avengers of Disney games. You get to explore the land of Dreamlight Valley and meet some of your favorite Disney and Pixar characters as you fish, cook, and bring magic back to the valley.
Disney is a popular choice for a movie to watch on the couch, so it makes sense that it would also be a good choice for a cozy game. Who wouldn't want Mickey, Moana, and Woody as neighbors?
Behind the Frame: The Finest Scenery
Even though it's not well-known, Behind the Frame: The Finest Scenery is a game that is also a piece of art. The whole world is hand-drawn and looks like it came from a Studio Ghibli movie.
This game has a soft, warm atmosphere. You can look around their charming, messy apartment while they work on half-finished drawings. Even as the main character's strange past slowly comes to light, the difficult puzzles and sad cutscenes give the player a sense of comfort. This warm and fuzzy game is perfect for a wet day spent inside with a controller and a cup of tea.
Stardew Valley
Stardew Valley is a classic in the cozy game genre. It has a lot of game features that will make your brain make lots of serotonin and dopamine.
Crops that are finally ready to be picked? Boom, dopamine. Spending a wet day with your Stardew Spouse on the farm? Serotonin goes boom. Opening a crystal and finding a gem you've been looking for for a long time? Dopamine again. How about putting all the cool things you've gathered on your farm? Serotonin again. Nothing makes you feel cozy like your brain releasing feel-good chemicals.
Abzu
Abzu gives you the peace of being alone because you direct a single diver in a big ocean. Even though nothing like a person lives in the water, there is a lot of life to look for. Dolphins jump up to the top of the water, schools of fish swim together, and manatees lounge in kelp forests. Even though Abzu is a short game, the underwater world is huge and very detailed.
Abzu pushes the idea of exploring for the sake of exploring, and the lack of pressure makes for a very relaxed and cozy game. You can't die, there are no bad fish, and there is no time limit. Think of this game as the good twin sister of Subnautica.
Spiritfarer
Spiritfarer calls itself a "cozy game about dying," which is not too much of a stretch. You follow Stella, who runs a ferry for lost souls of the dead, as she goes on new adventures and makes friends with people from the afterlife.
Even though there are a few really sad parts in Eggy Car game, Spiritfarer is known for making people feel good about themselves. When you don't have to hold back tears, you can do a lot of things, such as fishing, farming, cooking, decorating, weaving, and so on. In the end, it's the perfect game for people who want to get in touch with their feelings while still getting the sweet joy of doing regular things.
Night In The Woods
Night in the Woods is a cozy game that can make you feel like a kid again and make you think a lot about yourself. Even without the funny jokes and cute animal NPCs, the story of this game is touching and easy to link to real-life problems.
You go around Possum Springs as Mae, a girl who dropped out of college and moved back home to try to get in touch with her past. Along the way, old friends are brought back together, pretzels are stolen, and existential fear is faced. This game is calm and gentle, but it asks some very deep moral questions. Still, there's something comforting about the story's depth, and it's a great game to play when you want to get in touch with feelings you may have forgotten about.
Cozy Grove
Just look at the name—it's clear that this is a cozy game. Besides having a cute name, this game has a lot of content that you can watch all at once while sitting on the couch.
Cozy Grove is the kind of game you can lose yourself in on a wet afternoon. There are friendly ghosts to make friends with, cute furniture to decorate homes with, and different outdoor tasks to do. It feels even cozier because it has a cottage-style look and pretty, painting scenery.
Coffee Talk
This game has soft jazz and lo-fi as background sound. If that doesn't show how cozy it is, then the idea of the game should: You play the role of a barista in a coffee shop in a made-up version of Seattle. You listen to the problems of made-up customers while making the perfect latte art.
The game moves forward and takes different paths based on how well you treat the local NPCs, and by the end of the game, you are sure to feel relieved emotionally. People need to take a break from their own worries and think about the problems of a sea nymph from time to time. Lucky for you, you can do just that with this game.
Animal Crossing: New Horizons
Animal Crossing: New Horizons has lovable NPCs, a lot of ways to change your character, day-to-day jobs, and tiny houses you can decorate. These are all things that make a game cozy. It's one of those games that you can play for hours and hours, sometimes stopping to do other things but always coming back to.
On your islands, you can do a long list of relaxing things, like fishing, cooking, gardening, and digging for buried wealth. Animal Crossing can be a great way to feel like you're getting something done on days when nothing goes as planned.
Growing Up
Growing Up is a life game about making new friends and taking care of yourself. It's mostly about tactics, but there are also puzzle minigames and skill trees that move the story along. It's up to you to find a good mix between work, play, and responsibilities. The careful planning always pays off, though, as playable characters grow from babies to children to teenagers to young adults. When that happens, a new baby is born, and the game can start again with a whole new story.
This game makes you feel nostalgic and like a parent, which makes it a cozy game that's great for people who like to make plans. Whether the character is working on a new relationship or getting ready for the job of a lifetime, this game always gives you a feeling of love and soft pride.
Unpacking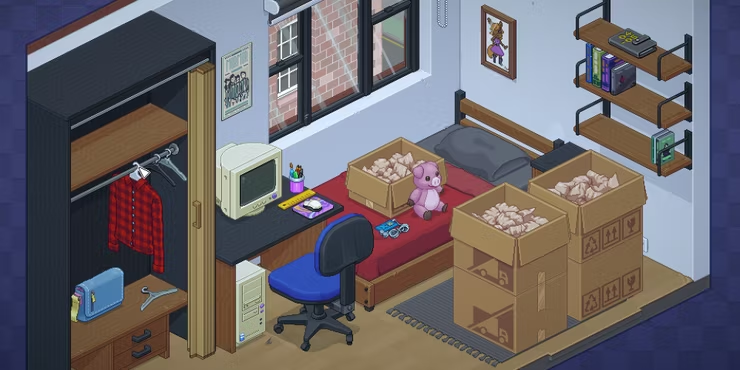 When it came out at the end of 2021, Unpacking was an instant hit. It's easy to see why: the game pays a lot of attention to detail, the story makes you feel something, and the block puzzles are a relaxing way to do the same thing over and over again, which will help you rest.
Since there are no timers and nothing is at stake, the game lets you settle in and do a job at your own pace. Unpacking might be the best way to relax after a long day and leave behind the stress of everyday life. And what else could people want from a relaxing game?