In FIFA 23's Career Mode, you can get some of the best stars.
In FIFA 23's Career Mode, which lets you run different teams, you can sign a wide range of players to strengthen your team. One way to get great deals on players is to buy those whose contracts are up in a year.
Keep an eye out for football players whose contracts are about to end. You can buy them for less money if you do. You can also talk to them about a pre-contract deal in January and get them for free. Several players' contracts will end after the 2022–2023 season, so you can sign them in the first season.
Adrien Rabiot, Juventus
Adrien Rabiot was called a "Wonderkid" while he was at PSG, and he was taking the world by storm. Even though he hasn't quite reached his full potential, he has become a great player for Juventus and had some great moments on the field.
Since his contract is about to run out, you can get a great deal for the French playmaker in FIFA 23's Career Mode. He has a rating of 82 and will be a great player on the team for at least five to six years.
Youri Tielemans, Leicester City
Youri Tielemans has been one of Leicester City's most important players. In 2021, he scored the winning goal in the FA Cup Final, giving Leicester City their first FA Cup. In real life, the talented Belgian midfielder is in high demand and has already been linked to a number of teams.
Getting him in FIFA 23 could be a great move for your club in Career Mode, and he could hold the center midfield position for years. The 83-rated star has good stats and a good chance of getting an 85 rating in the game.
Konrad Laimer, RB Leipzig
Konrad Laimer is another great midfielder whose deal is about to end soon. The talented Austrian has everything you need in a CDM, so you can try to buy him from RB Leipzig for about €30–€35 million.
He has a great grade of 83 and a potential of 84, which with the dynamic player potential is sure to go up into the high 80s. You can also try to make him a fullback, which is another position he does well in.
Raphaël Guerreiro, Borussia Dortmund
Raphael Guerreiro is one of the present standouts on the Borussia Dortmund team, but there are always a lot of great players there. He has had a great 2022–2023 season, and he is one of the main reasons why BVB has been doing so well.
The 83-rated Portuguese player can mostly play left back for your team, but he is also great at moving forward on the field and sometimes helping the offense. Also, he is very good as a midfielder, and when he is put in that role, his overall rating goes up.
Milan Škriniar, Inter Milan
Milan kriniar can be a great choice if you want to sign a good center back. In FIFA 23, you'll probably be able to sign the Slovakian for close to €50 million. He'll help improve your defense and cut down on the number of goals your team gives up.
He has a rating of 85 in the game, which is more than enough, and he has a good pace, which is needed when going up against fast forwards. He also has the ability to get an 86, and if you play him often, he will easily go above that mark and may even get into the 90s.
David De Gea, Manchester United
In FIFA 23, you need a good goalie to stop shots, and if you have a good one, your chances of winning games and trophies go up a lot. David De Gea has been one of the best goalkeepers in the world for a long time, and if you were in charge of a club, he would be a great addition.
He has a score of 87, and if you can get him for a good price, you shouldn't miss the chance. Even though he won't be cheap for a player over 30, goalkeepers tend to last longer, and he could easily keep his grade until he's 35.
Luka Modrić, Real Madrid
Luka Modri's age doesn't slow him down on the field, and he still plays well for Real Madrid and Croatia on the biggest stages. The defender is basically one of the best players in FIFA 23, and if you buy him in Career Mode, he can give you two or three great seasons.
With his good passing, your team will have a lot of chances to score, and if you have good players, your team will score a lot of goals. But it's important to note that his overall rating of 88 will start to drop quickly because of his age, and he might soon quit in Basket Random game.
N'Golo Kanté, Chelsea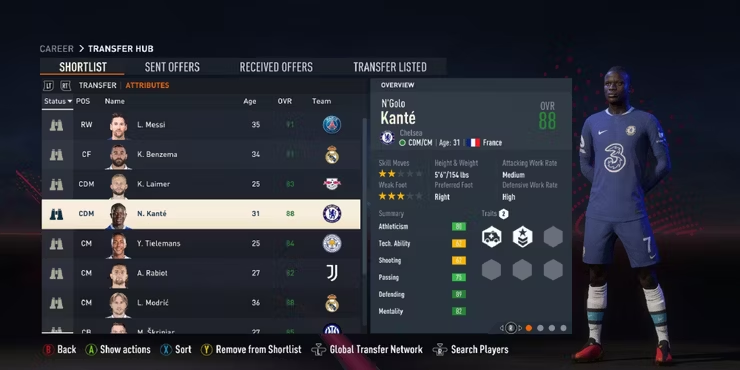 N'Golo Kanté has been hurt and hasn't been able to play much lately, but that doesn't change how good he is. For a long time, many people thought the French midfielder was the best player in his position. He helped Chelsea win the Champions League and several other titles.
He has a grade of 88 in FIFA 23 and is worth more than €60 million. You can talk to him and get him for about €55–57 million, which is a fair price for someone of his level.
Karim Benzema, Real Madrid
Karim Benzema will be an important part of Real Madrid's success in the 2021–2022 season, as shown by the fact that he won the Ballon d'Or. The center forward could be the best player for your team if he gets the right passes and help. He is very dangerous near the goal.
Still, keep in mind that Karim Benzema isn't fast, so you'll need good wingers who can beat the other team's speed to make the chances. He is worth about the same as N'Golo Kanté, and you should be able to get him as a pre-contract signing.
Lionel Messi, Paris Saint-Germain
Lionel Messi, an Argentine forward, is probably the best football player in history. His reputation is even stronger now that he helped Argentina win the 2022 World Cup. After the 2022-2023 season, his deal with Paris Saint-Germain will be over, and there has been a lot of talk about him possibly going back to FC Barcelona.
In FIFA 23's Career Mode, he could be one of the best players you sign. He has a rating of 91 and can play both the right wing and the center forward positions well. He can also do a good job as an offensive midfielder.